Larisa Laivins is the artistic genius behind our In the Navy banner, painter and fellow taco chulo lover!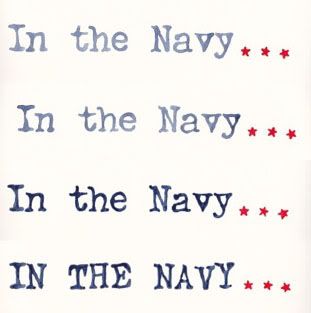 Who: Larisa Laivins
What: Sweater specialist, creative consultant and maker of things
Wear: Jeans, t-shirts and lots of CARDIGAN!
Stripes or Solids? I love some stripes, but I'm in a solid cycle at the moment.
First  cardigan memory?  
My grandpa's letterman sweater from Oklahoma A&M in the 30s. It was a black V-neck cardigan with 3 orange stripes on the sleeve and "W. Eppler" embroidered on the inside. I thought it was the coolest thing ever, and I was so excited to finally be entrusted to wear it in junior high.
 Stolen goods:  
Grandpa, Dad and boyfriend have all had cardigans go missing.
Cardigan style:
I like a VN Cardigan with a boyfriend fit. I wear 'em with skinny dark denim and an easy stretched out t-shirt or over a short dress.
If I were a cardigan, I would be…
Probably the VN Cardigan described above - made out of old school cashmere or nice merino.
Tell us about your work:
I like faux finishes, fake plants and party lights.
What's your favorite thing about working with Lynne?
Lynne is one of the most positive, enthusiastic and generous people I know, and for these reasons working with her is inspiring and easy.